SHARE YOUR COMPLETED DĀLYTE PROJECT PHOTOS WITH US
FOR A CHANCE TO WIN*!

March 25, 2021
Have you installed a DĀLYTE product in a client project, business, or home? Send us a picture by April 21 and be entered for a chance to win* a $250 gift card!
Here's how it works: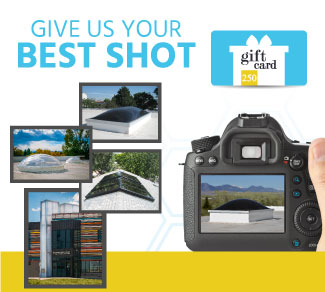 Take or find a photo of your installed DĀLYTE product.
Write a short description about the project/installation.
Upload your submission by April 21, 2021.
Both amateur and professional photos are welcome, though we request that images be a minimum of 1200 pixels wide (not sure? Send it anyway!). The winner will be announced on May 21st and featured on our website and social media accounts.
Take Note:
Only enter photos of properties that are completely finished
Photos must be taken in blue sky conditions (no rainy/snow days please)
No persons, tools, vans, or equipment should be visible
As always, thank you for your business, and we can't wait to see what you've done with our daylighting products. For questions, please contact us at sales@dalyteusa.com.
By entering the DĀLYTE Photo Submission Drawing ("Drawing"), you agree to be bound by these Official Rules. AiA Industries, LLC dba DĀLYTE ("DĀLYTE") reserves the right to reject any entry which or disqualify any entrant who violates these rules.
Who May Enter
Anyone age 18 or over. No purchase necessary.
What to Enter
Photos of projects using DĀLYTE's products (Architectural Structural Skylights, Curb Mount Skylights, Translucent Wall Systems, Canopies, Greenhouses). We're looking for photos that show our products being used in interesting architectural designs, in beautiful settings or in unusual creative ways. Of course, if you have any really cool, surreal or artistic shots incorporating our products, we'd love to see those too.
How to Enter
Please complete the online form on this page and upload your photos. You must consent and agree to the contest rules in order to participate in the drawing.
Digital Submissions:
Be sure to shoot the original photographs in the highest resolution possible. Submitted photos must be a .jpeg or .tif format, 5" x 7" (or larger), at 300 ppi resolution. For questions, please contact marketing@dalyteusa.com.
Rights to Photograph
An entrant must hold all rights to a photograph. Submission of an entry grants AiA Industries, LLC dba DĀLYTE and its affiliated companies the unrestricted right to modify, edit, adapt, alter, publish and/or use the submitted photograph in any way, at any time and in any and all media in connection with the advertising or promotion of DĀLYTE's products or services, without consideration or payment to the entrant or to any other third party. At its discretion, DĀLYTE also reserves the right to include the name of the entrant as well as the city and state in which the photo was taken in any and all such above described advertising and promotional activities. The entrant represents that any person depicted in the photograph (or, if a minor, the minor's parent or guardian) consents to DĀLYTE's use of the photograph in accordance with these Official Rules. The entrant is solely responsible for obtaining necessary authorizations (e.g. model release forms, etc.) from all persons, the parents or legal guardians of minors, and the owners of all private property and trademarks appearing in the photograph to take the photograph and to grant DĀLYTE the rights herein granted. Entrant further represents that the photo does not infringe or violate any third-party rights.
Release of Liability
All entrants release DĀLYTE and each of DĀLYTE's affiliates, subsidiaries, officers, directors, agents and employees and all others associated with the development and execution of this Drawing, from any and all liability with respect to, or in any way arising from, this Drawing, and/or use of the prizes, including liability for personal injury. DĀLYTE is not responsible for printing, production, or typographical errors or omissions, or other similar errors or omissions.
By sending your submission and entering the Drawing, you certify that you have read all of the Official Drawing Rules and accept and agree to be bound by these rules and the decisions of DĀLYTE, which shall be final, binding, and conclusive on all matters. All entries and photographs become the exclusive property of DĀLYTE and will not be returned or acknowledged.