With thousands of glazing options on the market, it can be difficult to choose the right type. The DĀLYTE team will assist you in navigating through those options and recommend the appropriate glazing for each application. Units can include single-, double-, or triple-pane glass. Single, or monolithic glass, is not insulated, therefore it is only recommended for interior applications. Double- and triple-pane glass are considered insulated glazing, and are generally used in all new exterior applications. For increased insulation, argon or krypton gas can be added to any insulated glass system. Low emissivity (Low-E) glass, the most popular choice, will reduce light transmission and solar heat gain, making the space more comfortable for people. However, when growing plants is a room's main function, clear glass is the most beneficial option, allowing the most nourishment to emanate the room.
For applications with safety requirements, DĀLYTE offers two choices — tempered and laminated glass. Tempered glass is heat strengthened and is less prone to breaking than traditional glass. When tempered glass does break, it shatters into small squares, rather than breaking into sharp, jagged pieces, then collapses. Laminated glass is used in ceilings or other potential impact areas and contains a clear film inner layer. Upon impact, laminated glass will break into a spiral, but it will not fall out of the frame; laminated glass also removes 99% of all harmful UV rays.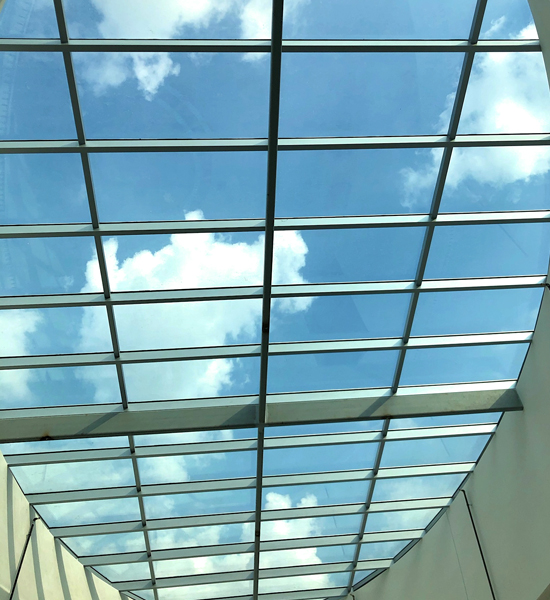 LOW-E GLASS GLAZING
Low emissivity (Low-E) glass is used to control light and solar heat gain in a room. This is achieved by applying a thin coating of metal, either silver or tin oxide, to the inner surface of the exterior glass pane. This coating reflects heat to the exterior in warm climates and absorbs heat in cooler climates, which is conducted indoors, providing year-round comfort. Our standard Low-E coating options include:
VITRO ARCHITECTURAL GLASS

CARDINAL GLASS INDUSTRIES

GLASS SPECIFICATIONS
Glazing choice plays a critical role in the performance of your product, and the selection is both location and design specific. Low-E coatings allow the sun's rays to pass through the glass while reducing the amount of heat transfer. U-values measure the amount of heat transferred through glass. The lower the value, the better it insulates. The value for a typical single pane of glass starts around 6.0, whereas you can expect values of around 0.13 for insulated glass with Low-E coatings, stainless steel spacers, and argon infill. Even though Low-E coatings can reduce the amount of ultraviolet ray penetration by over 85%, we recommend using fade-resistant indoor/outdoor furniture. DALYTES' sales designers will work with you to determine your best options.
GLASS TYPE
VISIBLE LIGHT
TRANSMITTANCE
(VLT)
VISIBLE LIGHT REFLECTANCE
(BTU//hr°ft20˚F)
NFRC U-VALUE
SOLAR HEAT GAIN
COEFFICIENT
(SHGC)
EXTERIOR %
INTERIOR %
Winter
Nighttime
Winter
Argon

Solarban® 60 (2) Clear + Clear
70
11
12
0.29
0.24
0.39
Solarban® 60 (2) Solarbronze® + Clear
42
7
11
0.29
0.24
0.28
Solarban® 60 (2) Solargray® + Clear
35
6
10
0.29
0.24
0.25
Solarban® 70 (2) Clear + Clear
64
13
14
0.28
0.24
0.27
Solarban® 70 (2) Solarbronze® + Clear
39
8
13
0.28
0.24
0.20
Solarban® 70 (2) Solargray® + Clear
32
7
13
0.28
0.24
0.19
Solarban® R100 (2) Clear + Clear
42
32
14
0.29
0.25
0.23
Solarban® R100 (2) Solarbronze® + Clear
25
15
13
0.29
0.25
0.20
Solarban® R100 (2) Optigray® + Clear
29
18
13
0.29
0.25
0.20
Cardinal LoĒ²-272 - Clear
72
11
12
0.30
0.25
0.41
Cardinal LoĒ³-366 - Clear
39
13
16
0.29
0.25
0.18
Cardinal LoĒ³-340 - Clear
65
11
12
0.29
0.24
0.27
ACRYLIC GLAZING
Acrylic tends to be the more economical and practical choice when it comes to skylight glazing material. It is lighter than glass and suitable for installation on roofs with low slopes or flat roofs. Due to its natural strength, acrylic is the preferred material for skylight domes. Acrylic is also naturally UV stable and will withstand years of abuse from the sun. Acrylic also allows for more design flexibility, is easier to handle and is available in larger sizes.
TRANSMITTANCE

SOLAR HEAT GAIN COEFFICIENT

VISIBLE LIGHT
SOLAR ENERGY
SINGLE GLAZED
DOUBLE GLAZED
TRIPLE GLAZED

CLEAR

92%
85%
.84
.76
.56

WHITE

56%
52%
.48
.39
.24

BRONZE

27%
35%
.45
.36
.21
| ACRYLIC | U-VALUES | R-VALUES |
| --- | --- | --- |
| SINGLE | 1.2 | .83 |
| DOUBLE | .48 | 2.08 |
| TRIPLE | .39 | 2.56 |
POLYCARBONATE GLAZING
Polycarbonate glazing is a sustainable plastic, multi-wall system that is significantly lighter (less than 1 lb./sq. ft.) and less expensive than traditional glass infills, yet is incredibly strong. One of the main benefits of polycarbonate multi-wall is its ability to diffuse natural light (this varies depending on the material chosen). It is also very lightweight, durable, and impact resistant, and offers a variety of color and size options to control light transmission and thermal performance. Polycarbonate is resistant to extreme temperature either hot or cold, sunlight, snow, rain, and impact. This enables the panels to last for many years without fading or discoloring while also remaining damage-free from any various impacts over the years.
THICKNESS
STRUCTURE
COLOR
VISIBLE LIGHT
TRANSMITTANCE
(VLT)
U-VALUE
SOLAR HEAT GAIN
COEFFICIENT
(SHGC)
5/8" (16mm)
3-Wall
Clear
74
0.40
0.75
5/8" (16mm)
3-Wall
Bronze
37
0.40
0.57
5/8" (16mm)
3-Wall
Opal
52
0.40
0.63
1" (25mm)
7-Wall
Clear
58
0.26
0.62
1" (25mm)
7-Wall
Bronze
-
0.26
-
1" (25mm)
7-Wall
Opal
40
0.26
0.45
1-9/16" (40mm)

7-Wall
Clear
55
0.19
0.59
1-9/16" (40mm)

7-Wall
Bronze
-
0.19
-
1-9/16" (40mm)

7-Wall
Opal
35
0.19
0.39